Delivery
Delivery Service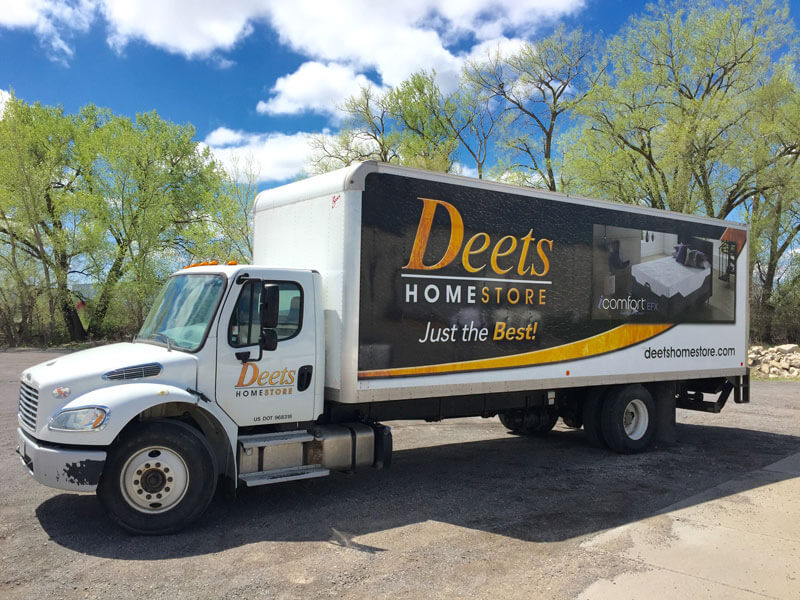 Not only do we pride ourselves on our customer service in the store, but out of it as well! We care about our customers, meaning we want to make it as easy as possible to get your new furniture in your home quickly and smoothly. With this in mind, our exceptional delivery service goes through several steps to ensure your new purchase enters your front door in perfect condition.
Before loading it on the delivery truck, we do a thorough inspection of your merchandise to ensure that it is in perfect condition and ready for your home.
We plan and organize the delivery by using our DispatchTrack routing GPS-based software. This includes TruckTracker which provides assurance for on-time deliveries and the ability for you to track the location of your delivery truck.
On the day of your arranged delivery, we will carefully load your purchase which will be protected with padding and delivered by our delivery team with our own trucks.
Once we arrive at your home, we make sure to finish the job. We assemble and set up your new items (excluding hanging of pictures & wall mirrors).
From there, we are sure to remove all of the packaging materials and again inspect your merchandise to guarantee that it has arrived in your home in the same perfect condition as when it left our store.
With all of these steps, we do our absolute best to make sure your newest purchase arrives completely and quickly. We also guarantee that your new items will be delivered on clean, well-maintained trucks that have not been contaminated with used furniture or used mattresses. Please note that we do not offer the removal of old mattresses, old furniture, and/or the rearranging of your existing furniture. Our team cannot be responsible for moving your appliances, electronics, or other household belongings.
Delivery service is the promise that you will receive your items quickly and in excellent condition. Here are a few additional notes about options for delivery:
If you purchase the Diamond Plus Protection Plan, you will receive delivery at half price or free driveway drop off.
Professional In-Home Delivery Service inside Norfolk City limits is $99.99.
Outside Norfolk and up to 75 miles, the delivery fee is $149.99.
For the Extended Delivery Area 75+ miles from Norfolk, add $2.00 per mile up to 120 miles.
Express Delivery is available for an additional charge. See store for availablity and details.
When you choose delivery service over 'load out' service, you also get 1-year service protection. This promises that, in the unlikely event you need warranty service, we will come to your home to repair or pick up and redeliver your furniture for repair (our choice) at no charge to you for the first year you have it in your home. If you choose 'load out' service, it is your responsibility to transfer your items to our store for warranty service.